As we wait to see in the new year it's all gone a bit apocalyptic again hasn't it? We'd booked a little family day of culture at Tate St Ives tomorrow, a little last hurrah of art and good coffee before we got locked down again. We thought it might help tide us over until we could safely return properly to our beloved realm of galleries, museums and theatre. And then Cornwall was moved into Tier 3 this afternoon and our plans for a little day out unravelled on the spot. Rising infections (which still look relatively low compared to many other areas of the UK) are a problem it seems when you live in a county with barely any intensive care beds.
These little jolts to our little plans seem to send me into more of a tail spin than they might normally. Managing teenagers and their emotions and day to day wellbeing can be difficult during a pandemic I am learning…and even something as small as popping to the Tate can give them (and us) a little boost and some inspiration, both of which felt very much required this week. Some days it feels ok and others, when the boys ask us when we think they might go back to school, or meet with their friends indoors again, it feels a little less ok.
So as I sit here feeling a little doom and gloom about my lack of art gallery visiting and the state of the nation, I thought I might write my first Bude Botanical blog post, looking back at the last flowery twelve months and try to shine a light on some of the positives from my year.
Business as usual
When 2020 rolled in last year, I didn't think much of it really. I've never been massively big on all the new year shenanigans, it always just feels like a nice bonus day tagged onto the Christmas holidays.
On New Years Day we made our ritual ascent of a tor or two on Dartmoor, and probably ate some leftover Christmas cheese as a reward for our efforts. We had a new year jaunt to London. We saw Touching the Void at the theatre, Troy at the British Museum and ate curry in one of our favourite curry houses. The kids went back to school that week, and we went back to our desks, and the world carried on as it had before. For a little while at least.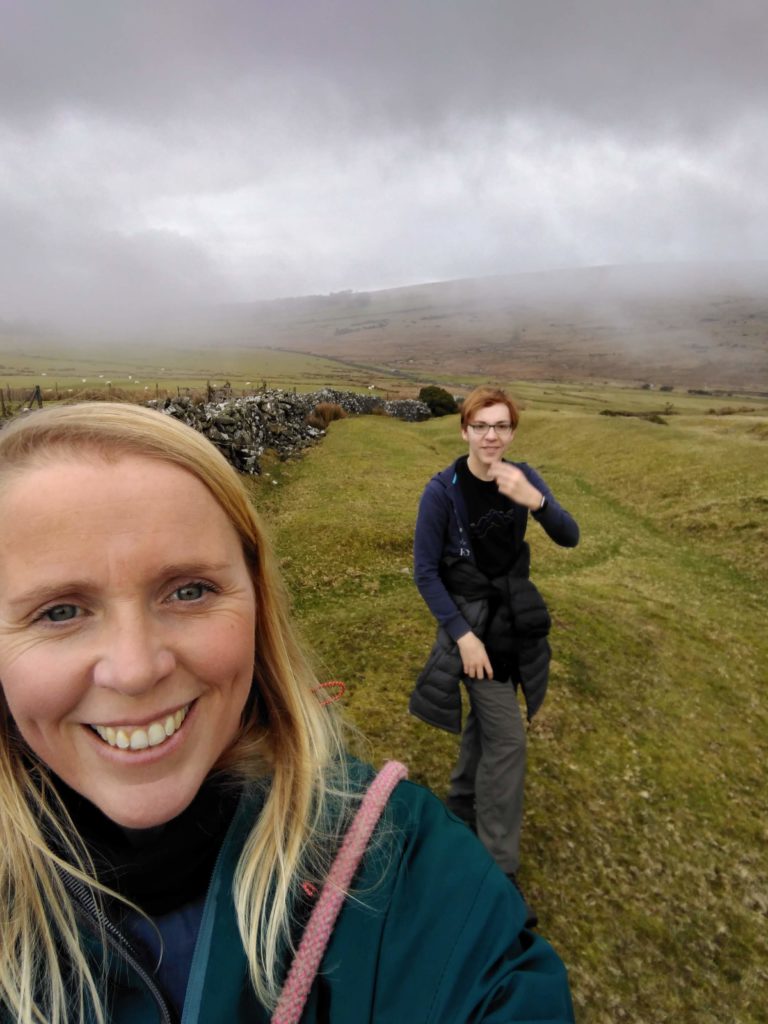 A change of tack
in 2019 I had started a new little adventure, taking a day away from my desk each week and heading to the teaching garden at the British Academy of Floral Art in Exeter. I had gone with the intention of learning about growing cut flowers…one of those hobbies you surprise yourself by stumbling into in your forties…and I also wanted to work for four days a week instead of five, and learning something new helped me justify that to myself.
Before I knew it, I had been sucked right into the world of horticulture and floristry and was suddenly, at 43 years old, considering a career change.
Since I was 21 I have worked mainly in the museum sector, doing all sort of lovely roles in some amazing museums. For the last ten years or so, Mike (my husband) and I have been working together, running a small consultancy, working with museums and arts organisations both in the UK, and around the world. Setting up our own business was the perfect way to carry on working with fabulous organisations, alongside rearing a growing family, while at the same time incorporating a little spur of the moment and life changing move to Cornwall. For the last eight years we have lived next to the roaring Atlantic, miles away from anywhere, while still doing what we love doing. Win, Win. And Win again.
Except I didn't feel much like I was winning at the work bit anymore. Exciting projects would roll onto my desk and I didn't feel that excited about them. The constant sitting at my desk, in our tiny spare room was becoming less appealing, and I realised that work wasn't making me that happy.
In January 2020 I decided to take the plunge into floristry and had signed up to begin learning everything I would need to know to 'do the flowers' for all of life's occasions and rituals. I wanted to become a professional gardener and florist and I was making my first baby steps towards this.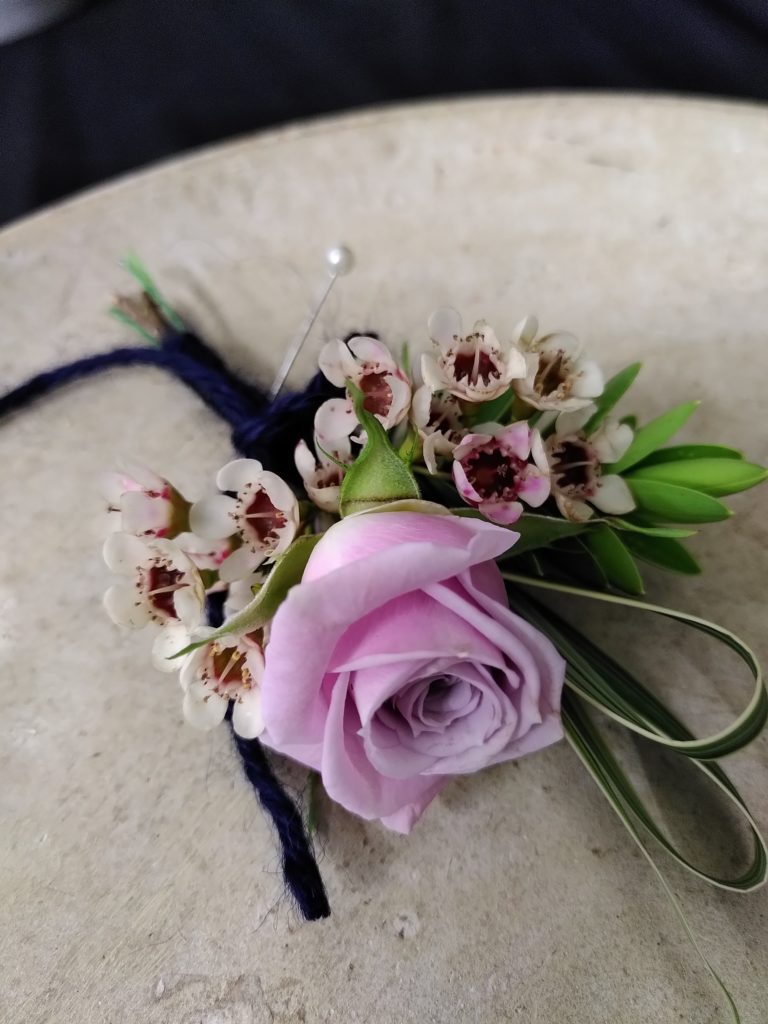 Wedding floristy
From January to March I learned lots about wedding bouquets, buttonholes, corsages, floral jewellery and floral crowns from the Academy's Amanda Randell Cox. Tbh, it was worth turning up every week just to listen to all her fabulous tales of floristy from a lifetime of being a florist. Amanda taught me so much about all the seriously amazing floristry techniques but also so much about handling flowers, what works together, and oh my, her colour combinations each week were sublime. Here's some of what I learned to do: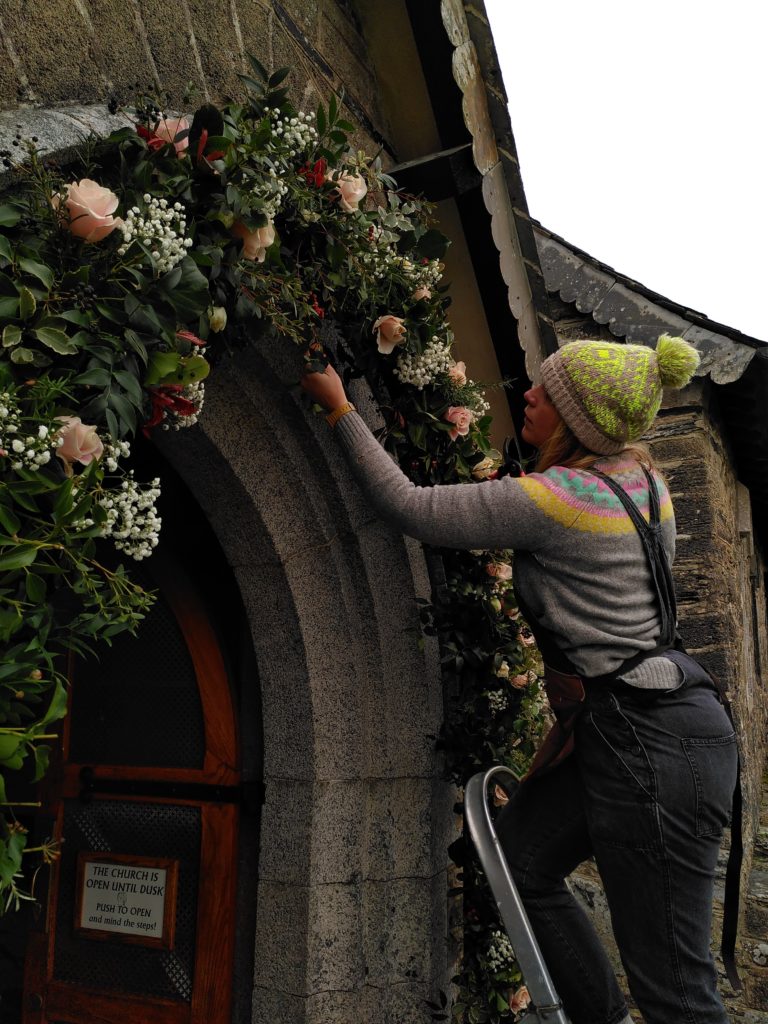 Mastering bouquets, pew ends and sheafs
After the long weeks of lockdown 1 (but oh my, that weather!) I returned to the Academy and completed an intensive week where I think I made (approximately) one million bouquets. Due to Covid restrictions there were only three of us in the classroom, and we had an absolute ball, playing with flowers all day, putting the world to rights, fessing up to our current wallpaper addictions and listening to a London Grammar album over and over. Here's a few of my floral creations.
In September I managed another week away from the nine to five and completed an intensive week of learning how to make floral arrangements of every shape and size imaginable. It was a week when everything fell into place, learning the amazing craft of arranging flowers into things of beauty from the amazing Karen Taylor – floristy teacher extraordinaire and fellow lover of gardening. It was the week that gave me the confidence to nail all my colours to the floristy mast and decide wholeheartedly that this was how i wanted to spend my future working life.
Flowery exams
In October I sat a mock exam, closely followed by the real deal exam. In it you have to make a buttonhole, a posy arrangement and a hand-tied bouquet. My nerves were eased by being in the room with two of my new found flowery friends, Lorraine and Kerry. We were all very relieved when the two hours were up and we retreated from the classroom while our work was marked. In an unexpected turn of events we all managed to bag ourselves distinctions, and in the absence of hugs (damn Covid) we did large squeals of delight and maybe a little happy dance each.
What now?
In November a couple of friends asked me to do bouquets for members of their family, and I realised that instead of procrastinating my way to the new year I just needed to get on with being a florist. Mike helped build me a website. My gorgeous friend Karen – my chief cheerleader and partner in very long telephone catch ups – did some beautiful design work, and my friend and neighbour Suzanne took some fabulous photos of my Christmas collection.
By December I was flowering almost constantly – delivering bouquets, making wreaths, Christmassy arrangements and planted designs. Some dear friends asked me to create the floral tributes for the funeral of their dear mum – something that was so very special to do – and I am deeply chuffed that they trusted me to do this, despite being a complete newbie to all of this flowery stuff.
Despite Covid I managed to deliver a socially distanced wreath making workshop for the fabulous Pearl Exchange – a fantastic new creative facility for young adults here in Bude and I also had a little stall at their twinkly and gorgeous Christmas market.
And so to 2021
After such a busy December I think that the now pretty much lock downed January is going to feel like a bit of a downer, but I have plans afoot. A new flower studio is currently under construction at the bottom of the garden, which I think will make our family life much more bearable – giving the dining room and utility back to eating and laundry purposes. I'm looking forward to getting my cut flower patch going again, and I have a couple of exciting wedding consultations coming up, so lots to look forward to in 2021.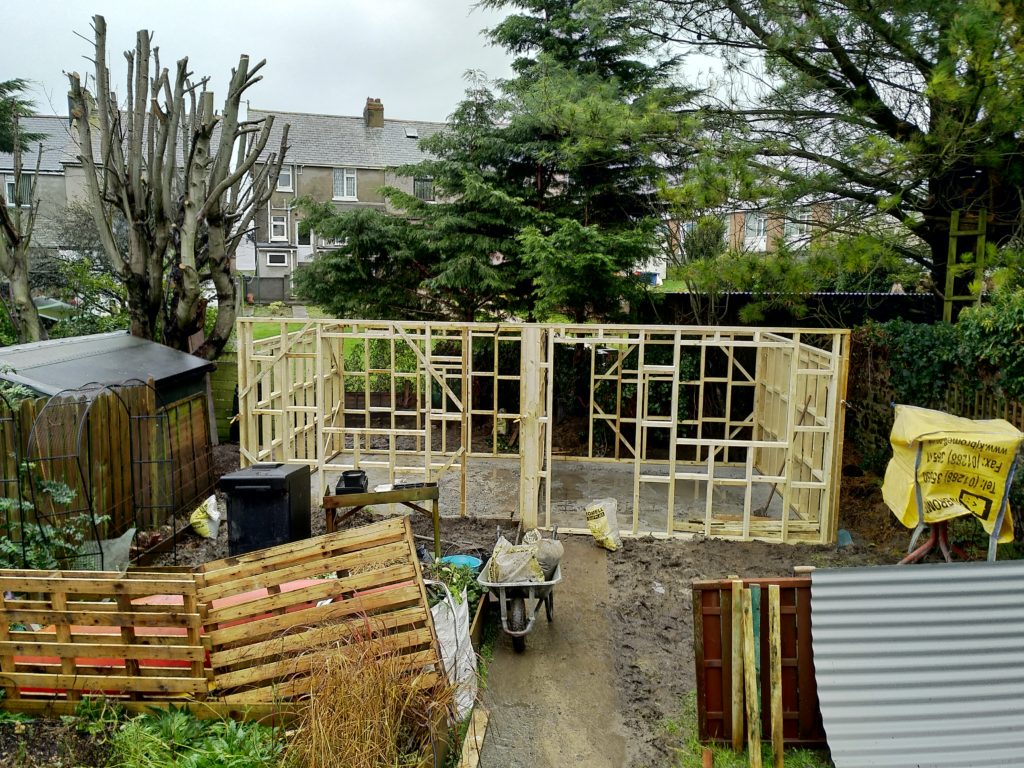 In the meantime I send you all much peace, love and understanding for the coming weeks. Remember folks, as some wonderful ancient poet once remarked, when considering our human condition (not knowing they would be the insta-quote star of 2020); this too shall pass.
Rach x