When I set out on my floristry journey 18 months ago, my tutors at the British Academy of Floral Art will, I am sure, remember me being the chippy one at the back, always asking how something might be done in a more planet friendly fashion. To their credit, they always made time to talk different options through with me and the lovely Karen, who taught me all about arrangements, set up experiments with me, with cardboard containers and agra wool (an alternative to floral foam) to see how well they worked. Thank you Karen.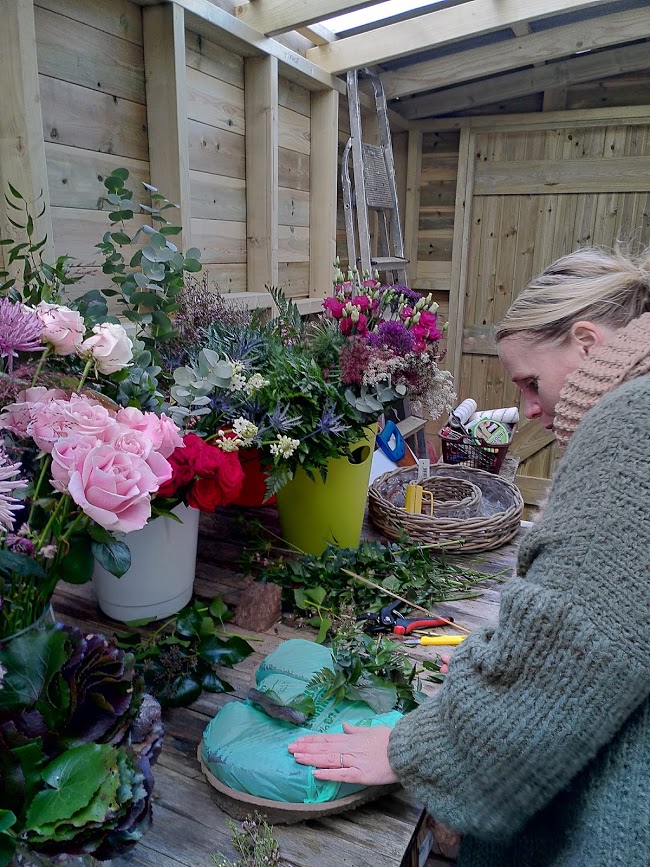 Kind to the planet floristry
I knew from the beginning that I wanted to run a floristry business that was as kind to the planet as I could possibly manage. I knew I wanted to:
use techniques that didn't require hideously polluting and landfill filling floral foam
have the simplest of packaging that did the job of protecting bouquets on the way to my customers, but that didn't fill their bin with unrecyclable rubbish.
discover more about the sustainability of flower growing and where best to source my blooms (that's a whole other blog post needing to be written right there!)
deliver as much as I could by bicycle rather than car.
And now here I am, running my own floristry business and the list is very much a work in progress. I see now that producing things at speed, that can be easily transported, and that are value for money are the things that are at the forefront of your mind when you're trying to earn a living as a florist. And I see why there is so many unsustainable aspects of this industry.
The planet polluting tools of floristry (floral foam being the main guilty party) were designed for a reason – they make a florist's life easier. Floral foam lets you make beautiful things, that last really well, transport easily and that can be made at the speed required for a commercial venture.
Floral foam – but what the hell is it?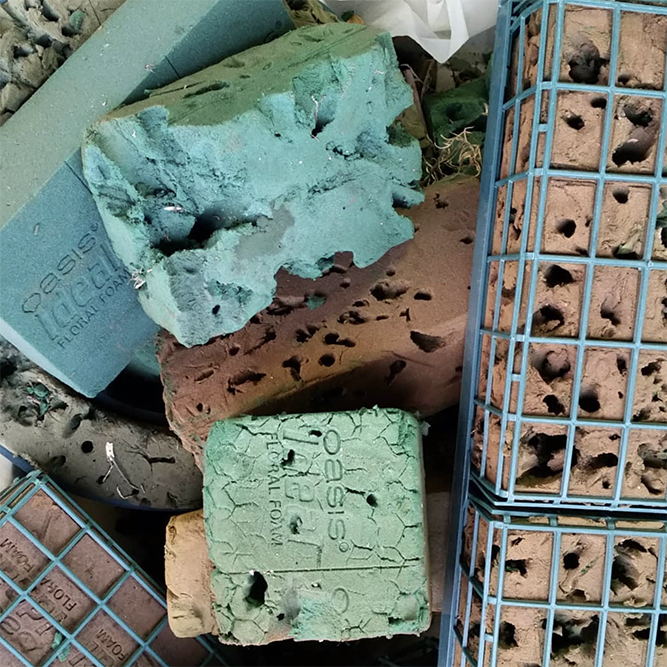 Developed in the mid 20th century, it was patented as an alternative to arranging flowers in things like moss, or in chicken wire. You may have heard it called Oasis – a brand name which has become the commomally used moniker for any type of floral foam (a bit like how vacuum cleaners of any make get called Hoovers). It is soaked in water before use and that helps the flowers last longer as they have a source of water when they are arranged.
Floral foam is essentially plastic. It's a petroleum-derived product, which means it comes from a non-renewable resource. It also contains nasties like formaldehyde just to make it really up there in things that you don't want to be using every day.
Manufacturers like Oasis have tried to make new kinds of foam that are more bio-degradable than the original, but they are still a long way from being truly eco friendly.

Taking the easy route is, well, easier
When I took on my first funeral commission back in December, I had all the new planet friendly tools at the ready, because, yes (!) I was going to be an eco-friendly florist!
And then two things happened…
…Firstly I was asked to make six tributes in the same day (which is a lot for a newly qualified florist), and secondly, I had a big, massive, full-blown panic.
My trial using agra wool (a new alternative to floral foam that isn't going to trash the planet) a few days before the funeral, went disastrously wrong. I couldn't get the stems into the wool properly, there was water leaking everywhere and it all was a bit of big mess. While in the midst of my blind panic, I may have (I totally did) order all the floral foam required to deliver what I had promised my new clients. The floral tributes were made, delivered and well received later that week and I was left feeling partly elated that I'd completed my first large commission, and largely deflated that I hadn't done it in a sustainable way.
Baby steps
Fast forward a couple of months and I am in a less panicky, more confident place. I have taken a bit more time to try using new planet friendly mechanics and have had time to think up some new ideas and try out some new things. I've also spent time reading lots and lots of books and websites, and, as always, chatting to other florists, particularly my friend Sarah Penny, who makes the most gorgeous eco-friendly funeral tributes here in Bude. We talk a lot about how a new approach is much needed across the industry.
A new approach
Offer typical floral designs for funerals but ensure they are 100% biodegradable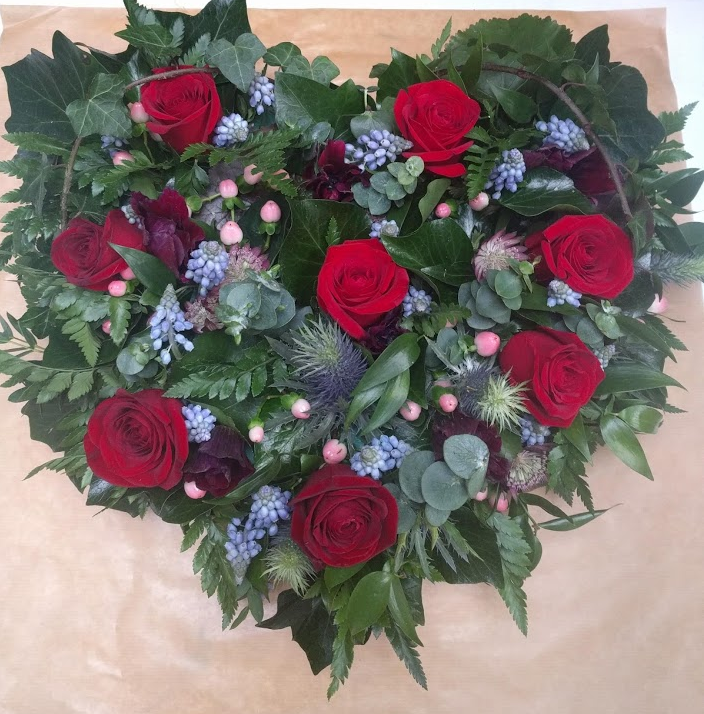 What I mean by this is that many clients know what they want for the loved one of their funeral, because florists have been producing the same kinds of designs for funerals, for.like.ever. Common comissions are for things like spray arrangements that sit on top of the coffin, shapes such as hearts or crosses, or a bouquet of flowers (often called floral sheaves). With a little extra effort, these can all be produced so that they will all break down naturally, returning to the earth without any harm.
Offer new types of floral tributes and services to your clients
I read recently that around 600,000 funerals are held in the UK each year and that over 70% of these are cremations rather than burials. If you have organised a funeral for a loved one you'll probably know that the majority of floral tributes are left at the crematorium after the funeral and (you might not know this) are usually dumped in a bin after a few days.
I get it, of course. There can't possibly be enough staff to break down the tributes and pop the flowers in a green waste bin, or recycle any of the bits holding the tributes together, but it still strikes me as an inordinate waste – for the planet, yes, but also for the families that have spent money on a tribute. Maybe it's time for the florists to step in and do something about it.
Bring it home...What about if we suggested to clients that they bring their tribute home after the service. It could be enjoyed in the home or in the garden. The heart design above is now into its third week and is still looking really beautiful. Once it is looking past its best it all can be easily composted.
Make something new…What about if we offered to make a large arrangement into small arrangements after the funeral (perhaps in little vases or jam jars) that could be given to relatives to enjoy at home in the days after the funeral.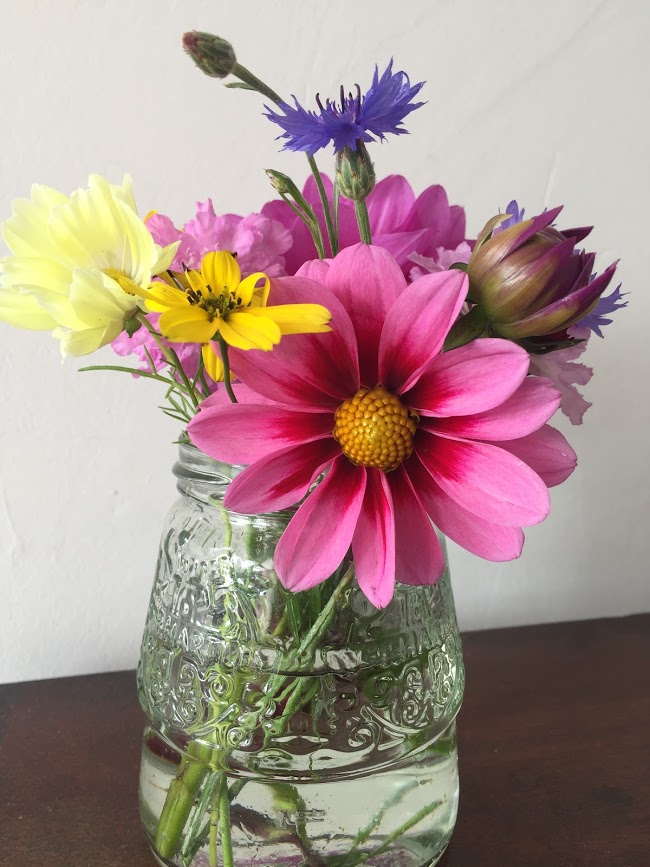 Compost and recycle…What about we offered a service where we collected the tribute after the service and composted and recycled everything if the family did not want to have the flowers at home. It would ensure the tribute didn't simply end up in landfill. And this would also mean that the florist could perhaps reuse the framework of the arrangement (e.g. of you had used bamboo canes to form a cross shape) which would help us start moving away from single use floral mechanics.
Re-usable mechanics…What about if we designed tributes using mechanics that could be used again and again. This week I designed a wreath in a beautiful rattan basket (see below). I designed it to look beautiful at the funeral, but also in the client's home afterwards. The client could either pay for the basket and keep it (it could be refilled for them for special brthdays or anniversaries or at Christmas if they wished). Or if the client did not want the basket after the funeral, it could be hired to them instead for the service and then collected by the florist and reused for tributes for other clients. We do this for weddings – hiring out vases and containers, so why not funerals too?
And what about plants….as a gardener I am always trying to shoehorn planted material into any design I can. When a client recently asked me to provide a design for a funeral that the family could take home and enjoy afterwards, I immediatley suggested plants. This basket has been enjoyed indoors for the last few weeks and I was delighted when they contacted me to ask where best to plant out the plants in the garden. On the anniverary of their loved ones passing, I am hoping there will be hellebores and cyclamen returning into flower in their garden.
Grannies and Eggs

I'm accutley aware that there will be florists reading this who are like "yeah, ok Rach, tell us something we didn't know/do already". But for all those florists I reckon their are another 10 or 20 florists who merrily open another box of floral foam each morning and crack on as they always have. But it seems to me, as people who work with the gloroius stuff of nature every day (flowers, foiliages and plants) we kind of owe it back to nature to find the less easy route, sell the better products and leave less of a giant size footprint than our industry is at the moment.
Rach x