If this week's UN report on climate change didn't scare the bejesus out of all of us, then frankly I don't know what will. Mike and I have spent today knocking about with some ideas about trying to do better. Our list is long, some of it is expensive, but we'll start this month with trying to better insulate our beloved but drafty home ready for the winter. My lovely mam was heading off into her attic this morning to dig out some ancient and heavy velvet lined curtains for us. They are certain to make my design eye twitch a little when they get put up in our bedroom later in the year, but as the world begins to burn, do I really care if they're the wrong shade of pink? I think probably not.
These are baby steps of course, but surely we all have a moral duty to try anything we can to live much more sustainably. The grim reaper has, via the medium of the UN, actually now spoken.
Words like sustainable, eco, and green are bandied about in many industries nowadays and the cynic in me is always questioning the hows and the whys, wondering how much of it is just PR spin; greenwashing us all into feeling better about this crazy-assed, consumerist society in which we live.

Eco- floristry and sustainable floristry are the buzz words of my chosen industry right now, but if you drill down, below the surface, quite a lot of it is complete green hog washing, and apart from a bit of brown paper and twine, the flowers are about as sustainable as a city filled with drafty houses like mine, with their heating turned up to a million.

Some of it, of course, is far from green hogwashing and is absolutely about doing stuff that is better for the planet, but I often fear it is shouted loudly by those who don't have to make an actual living from their floral dabblings. I once read something suggesting that florists should try and sell a bunch of snowdrops on Valentine's day, instead of a bouquet of red roses and it made me a little bit angry – I suspect the completely well meaning person didn't have a mortgage to worry about or any actual customers that were buying bunches of snowdrops in their droves.
I say that flippantly I know, but really I am ALL up for seasonality, locally grown stuff and finding alternatives to planet damaging traditions (I am certainly not a fan of the Valentine red roses) but I am also trying to earn a living and I need more realistic suggestions that enable me to pay the mortgage, make my customers happy AND save the planet at the same time. Is it any wonder why florists never sleep for thinking about this stuff.
As we try and find the answers as an industry to some of the mind blowingingly complicated questions about how floristry can become sustainable I think that individually as florists we can act now and do better. We can make small changes to our businesses that all count towards the end goal of sending the grim reaper packing.
Here's a few things that I'm doing to try and make my business a more sustainable enterprise.
No plastic thank you very much
I wrap in simple recyclable or compostable materials – I love wrapping in simple brown paper, tied up with string. There is never any need for the big cellophane wrap (and yes, I know some cellophane is apparently biodegradable), but I just can't be arsed with it – I think flowers wrapped in plastic just look at bit 1987.
Often my customers are not home when I drop round with their birthday/anniversary/new baby/I love you bouquet and if I can leave it in a safe place I will (saves two journeys). I do then pop them into one of my cardboard vases which are lined with a (very much reusable) plastic bag. Either reuse it again yourself or wang it back in my direction along with the cardboard vase, and I will reuse them again for another bouquet (and give you a little voucher to put towards your next flower purchase too).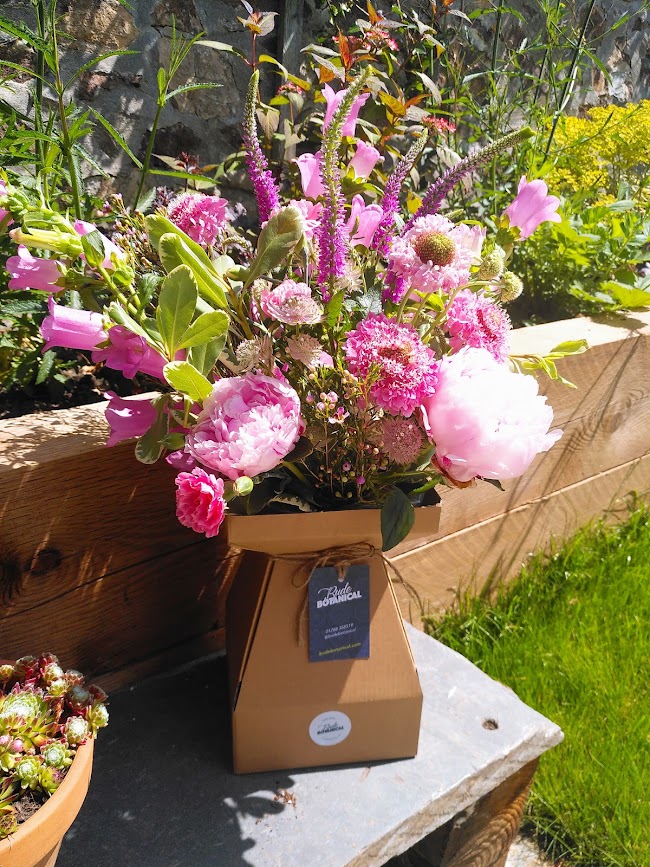 Ditching the floral foam
We should all do this because it is hideous and unnecessary. Floral foam is what for about thirty years florists have made arrangements in. It holds stems in place and acts as as water source too but essentially it's a pretty nasty single use plastic. It's a petroleum-derived product, which means it comes from a non-renewable resource. It also contains nasties like formaldehyde just to make it really up there in things that you don't want to be using every day. There is always an alternative to floral foam. It doesn't make a florist's life easier, but it does make our businesses so much more sustainable. All of the floral arrangements we make at Bude Botanical are made without floral foam. You can read more about the mind blowing amounts of waste created by the funeral flowers industry in a previous blog post.
Pedal powered deliveries
Since visiting Copenhagen a few years ago I have been a little bit obsessed with cargo bikes. I'll bore you about them another time but all I'll say now is that I think they are the answer to lots of our transport problems. Anyway, my beautiful Danish bike arrived a few weeks ago and I am completely smitten. Deliveries are a whole lot more fun and a whole lot more kinder to the planet.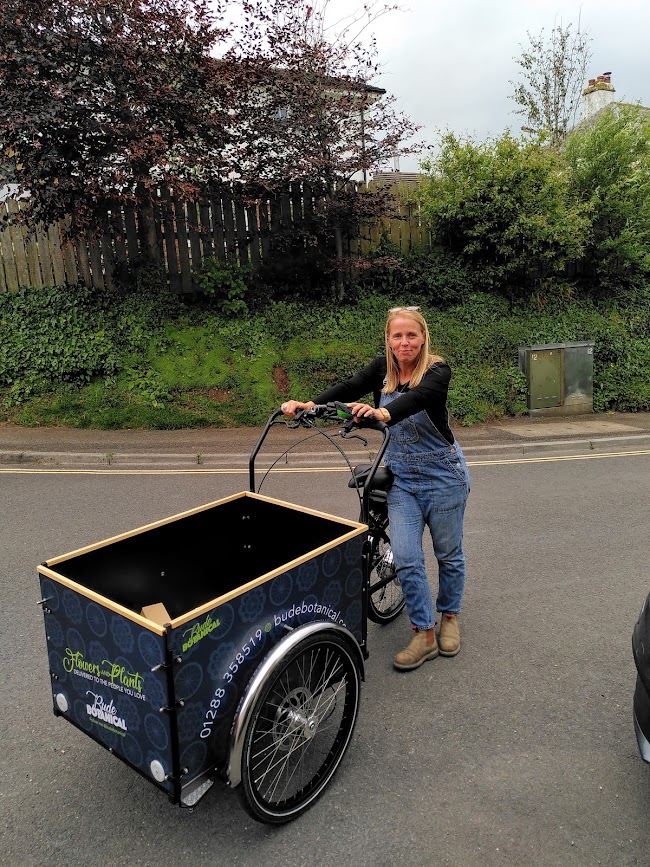 Composting green waste
I stick any of my floral waste straight into my magnificent hot bin – which is a super-fast composter (when I am attentive and put all the right things in it) that I have tucked behind the shed of floral dreams. It turns green waste into fantastic compost, just right for popping onto my veggie and flower beds.
Buying flowers that have the smallest impact on the planet
This is the hardest part for florists I think because we are currently buying without enough information to make informed choices. We need more information from the growers and wholesalers about how a flower is grown and how it is transported. Is heat used, are pesticides used and are the people who do the growing being treated and paid fairly? There are actual PhDs been written about how sustainable the cut flower industry is (spoiler alert: it isn't). I will continue to educate myself, keep doing the reading, buy locally from British growers when I can, suggest flowers that are in season to my clients and try suppliers that are showing which of their flowers meet which of the sustainability standards at the point of purchase. It's a minefield people, but I will keep trying to do my best, while hopefully our industry starts to wake up to how important this all is.