As a wedding florist, I can often be found at my computer a little bit more regularly during January. It's always a busy time getting your wedding flower proposals ready for you. New Year for many couples means nailing the wedding admin for their big day, and ticking things off their to do list. Or for some couples they are simply getting excited about their recent proposal and putting feelers out to local suppliers.
As you're beginning to think about booking a wedding florist for your big (or small) day, I thought it might be useful for you to see how I work, and the simple steps that we go through to arrange the flowers for your wedding day.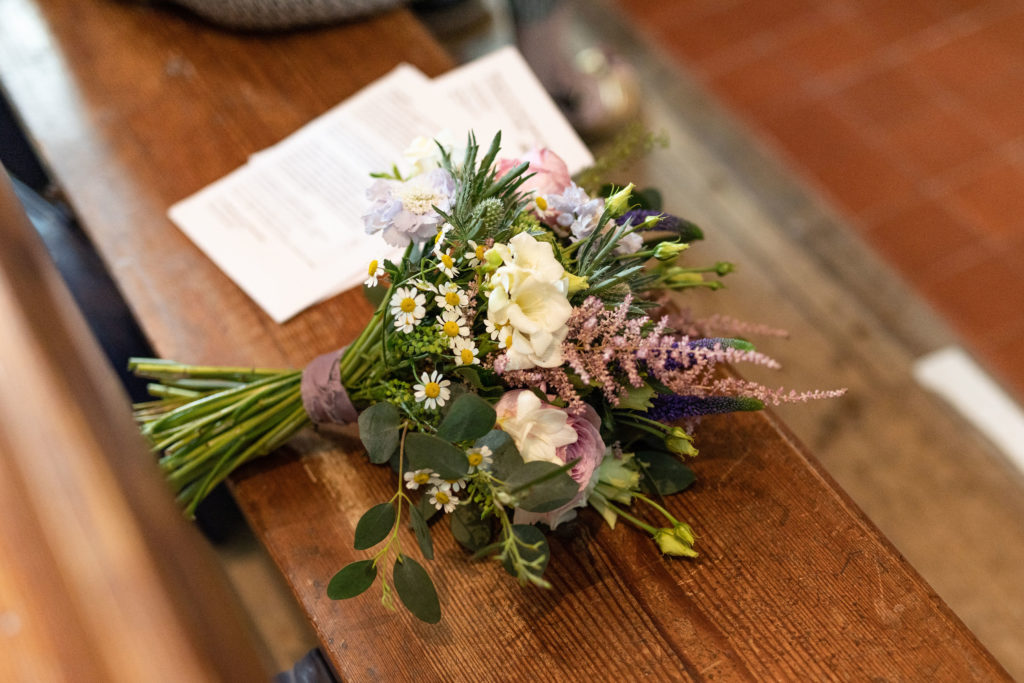 A little bit about me
I am a florist working in Bude, North Cornwall, from my beautiful studio in a little Victorian garden tucked away in the centre of Bude. Here I create all kinds of floral arrangements for weddings, delivering them and setting them up in gorgeous wedding venues across North Cornwall and North Devon.
(I am happy to work in Bude and beyond…so if you would like to enquire about any wedding venue, not just those in or close to Bude, then do just holler and we'll see if it's something I can do).
Why Bude Botanical?
Well, of course I would like you to choose me to be your wedding florist, but here's some information that might set me apart from other florists and help you make your decision.
I am a professionally trained florist, qualifying with distinction from the British Academy of Floral Art, learning from some of the most amazingly skilled florists working in the UK today.
I have also completed training in creating large floral installations with the fantastic tutors at the wonderful Bath Flower School.
All my floral work is based on the guiding principle of running a sustainable floristry business. I am passionate that my work has as small an impact on the planet as possible, whilst still allowing my customers to have the most beautiful floral arrangements to help them mark this significant moments in their lives.
I never use floral foam in any of my arrangements. Floral foam is regularly used by florists across the world and it is really awful for the environment. You can read more about it on a separate blog post.
I try to source locally grown flowers if I can. If I do have to source from the flower experts in Holland then I try to source the most ethical blooms from suppliers who care about their workforce and the environment. I also have a little cutting garden, and sometimes my home grown flowers appear in my wedding bouquets and arrangements.
After your wedding day we offer a service where all your blooms and foliages are collected and composted, ensuring they complete their life cycle by being turned into nutrients for next year's flower crop at Bude Botanical HQ.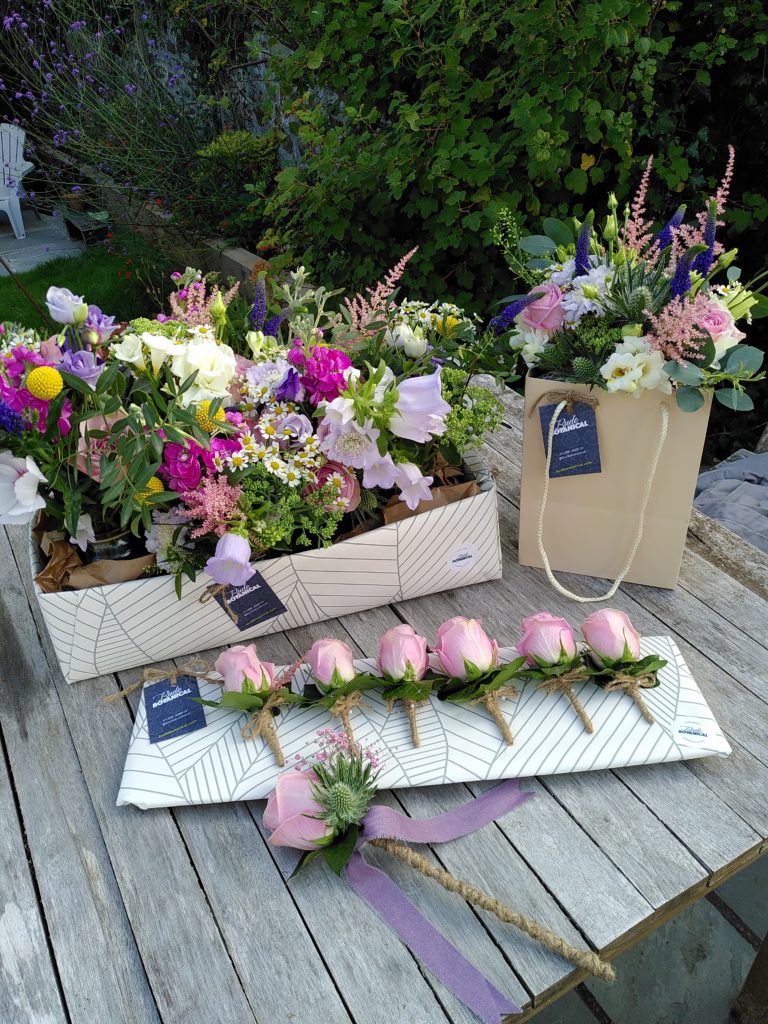 My process
Do have a little look on my website where you can see my style of floral design and also details of my two different wedding collections (which hopefully will suit the majority of budgets).
Drop me an email or give me a buzz to see if we have your wedding date available in our diary.
If we have then we can arrange to have a longer chat, either in person, via email or on Zoom.
If you choose my small and beautiful collection we can talk about any colour scheme you have in mind, a favourite flower if you have one, and details of the items you would like to order from the list of floral goodies detailed on our website. Prices for this collection are included on the website, which means you can get a sense of the cost from the outset. We them send you a deposit invoice and a booking form in order to hold the date with us, and then you can simply leave the rest up to me – I'll make beautiful floral arrangements for your wedding day and deliver them to your chosen location. Full payment is requested three weeks before your wedding day.
If you decide to go for our more tailored wedding offering – the big and beautiful collection– then at our first meeting (online or in person) we discuss your ideas, information about the venue, and your budget too. I love hearing about you and all your plans, so I can ensure I create something that will perfectly suit you and your wedding day.
After our meeting I will send you a visual proposal so that you can see what I would like to create, and how much each item will cost.
We usually have a few emails back and forward, or another chat on the phone about the proposal and once I know which bits of it you would like I then create a final proposal with costings.
After this I send you my booking forms and a deposit invoice to hold the date in the Bude Botanical diary.
Six weeks before your big day we meet again (online or in person) and if required we can visit your venue. This allows us to talk through any last minute changes that might need taking care of.
We ask for a final payment 30 days before your wedding day.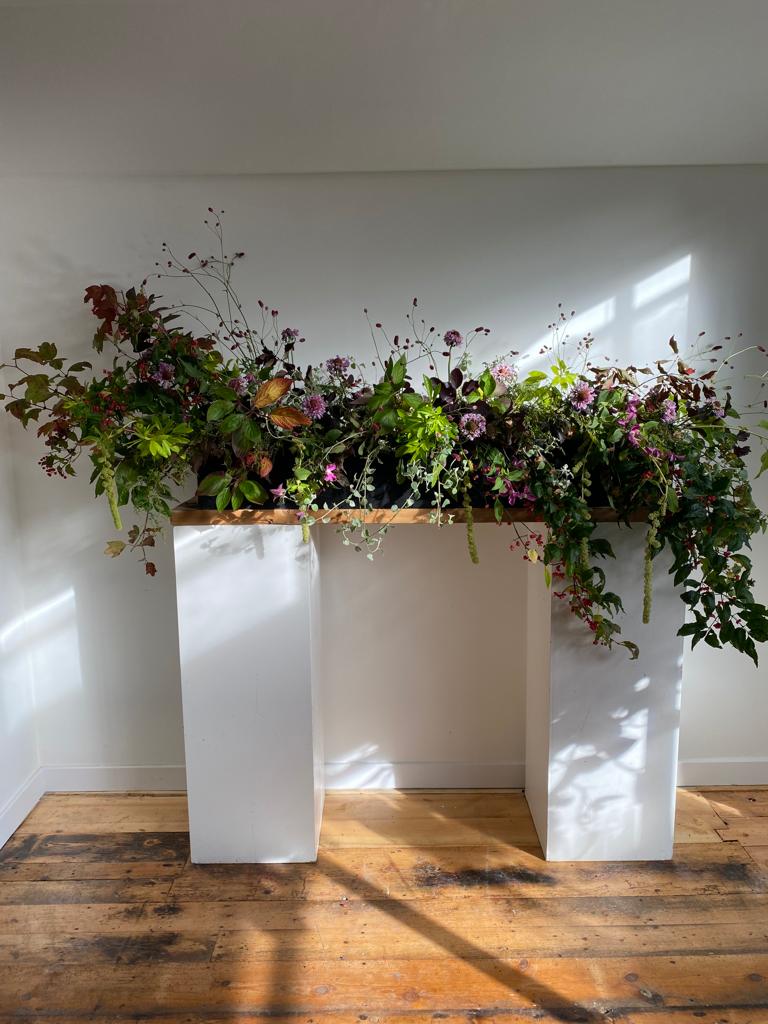 On the day
Some couples who have chosen from my small and beautiful collection arrange to collect the flowers from my studio in Bude on the morning of their wedding. Everything is packaged up for easy transport. Alternatively, for a small fee, I can deliver to your address of choice or wedding venue.
For my big and beautiful collection we will agree delivery, set up and take down arrangements at the meeting we have six weeks before your wedding. When I was in my twenties I worked in London, organising huge events for the Science Museum and the Natural History Museum (including some for HM The Queen!) so I totally get the busy nature of event set up and that communicating effectively is key to making everything stress free for everyone concerned. I use this experience to make sure everything is completely organised before your big day, so there is no drama on the morning of your wedding.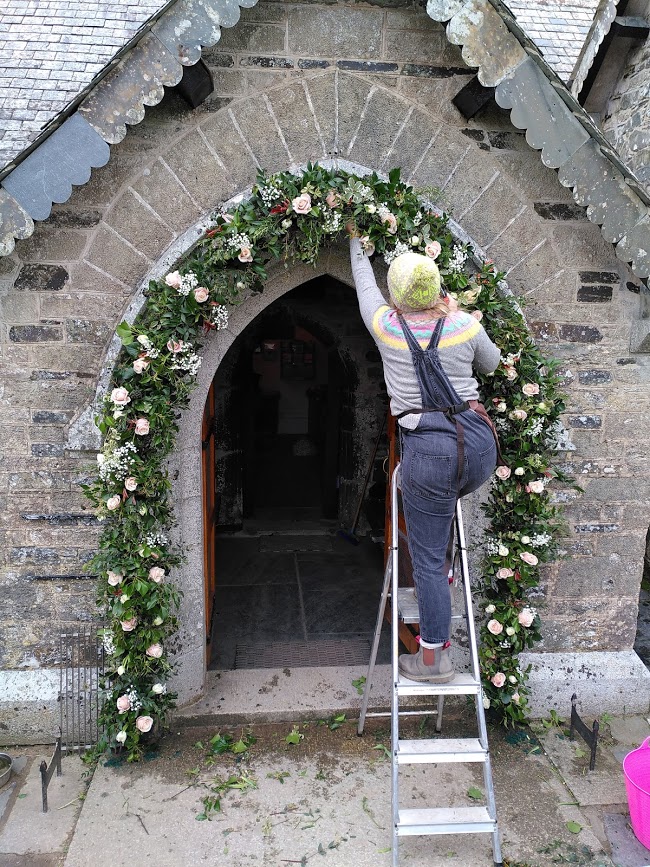 Get in touch
I'd love to chat about your forthcoming wedding and your floral ideas. I also get that not everyone is as into flowers as I am, so if you feel like you don't really know what you want then I can offer loads of ideas and guidance to suit you, your budget and your style of wedding. Almost twenty years ago the only brief I gave my wedding florist was "tulips" and "orange". The flowers she created for me were absolutely spot on. Her skill was to see me, and my style and the venue we had chosen, and to ask the right questions at our one and only meeting. Then she turned that into a floral reality that still makes me love the thought of my beautiful spring wedding flowers. My plan is to do that for your wedding day too.
And remember the important stuff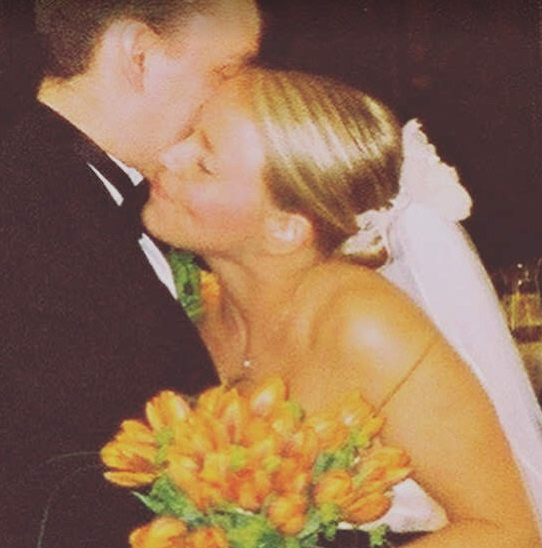 A gratuitous if somewhat blurry shot of me on my wedding day. After nearly two decades of marriage, and with very few photos of our wedding day (it was pre camera phone days folks!) the things I remember the most are my orange tulips, which matched the bridesmaid's dresses perfectly, my fab veil, which reached all the way down to the floor, my dad momentarily losing the car keys to our hired Morris Minor, the poems we chose to read and be read (they were lovely), Mike and I getting a bit emosh when I arrived at the ceremony, the dancing (the hilarious inter-generational dancing will forever make me happy), and the aching jaw the day after from all the smiling.
Planning a wedding twenty years after my big day is infinitely more difficult I think. The bombardment of insta-perfect weddings where budgets seem to be endless and the sun always shines can put a lot of pressure on couples. What I like to think I'm good at is trying to discover what is important to you. If the flower budget is being squeezed because you really, really want the food to be the star of the show, then let's focus on what we can achieve in the budget you have. If you dream of having a floral arch for the church doorway, then let's prioritise and shuffle other things to accommodate it. And the thing I often ask couples is to picture their (hopefully not as blurry) favourite wedding photo that they still look at twenty years from now, and to imagine what they see in it. For me the combo of my lovely Mike whispering something to me, and me looking blissed out, in my fancy veil, my Grace Kelly hairdo with my lovely orange tulips always, always makes me smile.
Please do get in touch if you are currently looking for a wedding florist. I'd love to chat about your special day.