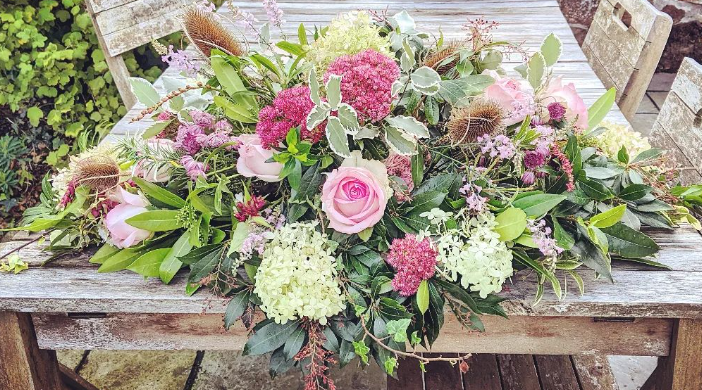 Coffin Spray
These are made to sit on top of the coffin and can be made as a double ended (a diamond shape pictured left) or single ended (like a teardrop, pictured below)
2ft from £100
3ft from £150
4ft from £200
5ft from £250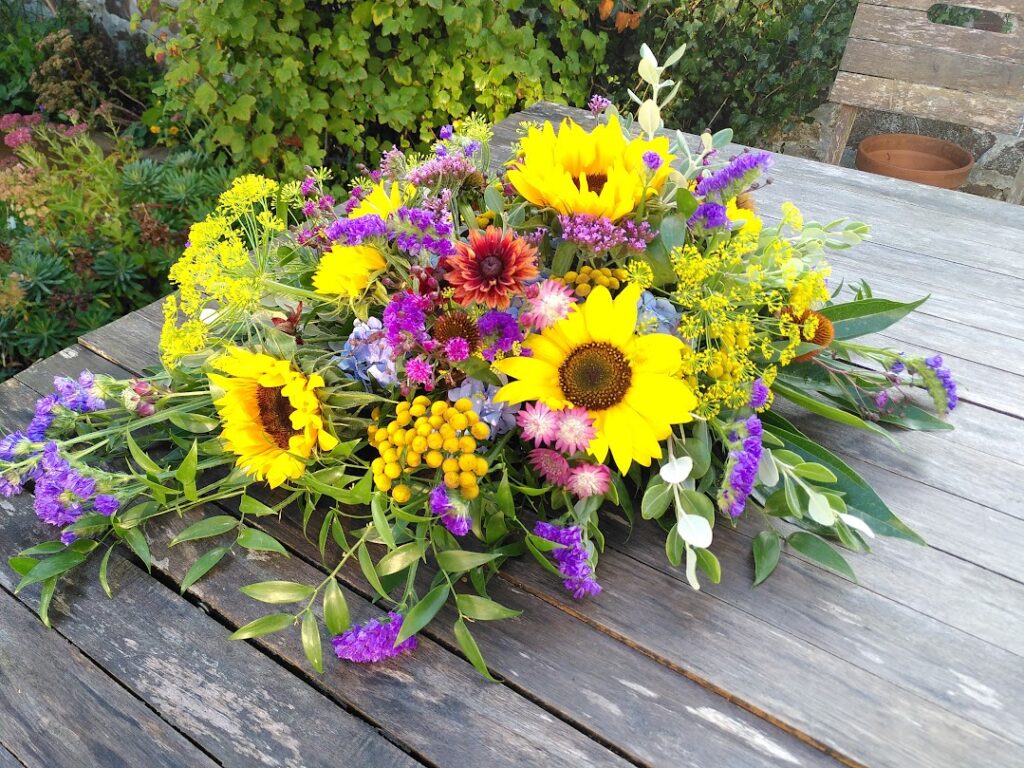 Tied Sheaf
These simply beautiful flat-backed bouquets can be laid on top of the coffin or at the graveside. They can also be brought home from the funeral, and placed in a vase. Lots of the families we work with like to do this, rather than leave them at the crematorium.
Prices for a floral sheaf range from £45 – £95.
We are also able to make a large arrangement for the top of the coffin by joining three to four tied sheaves together. After the funeral these arrangements can be taken apart and the sheaves taken home by different members of the family.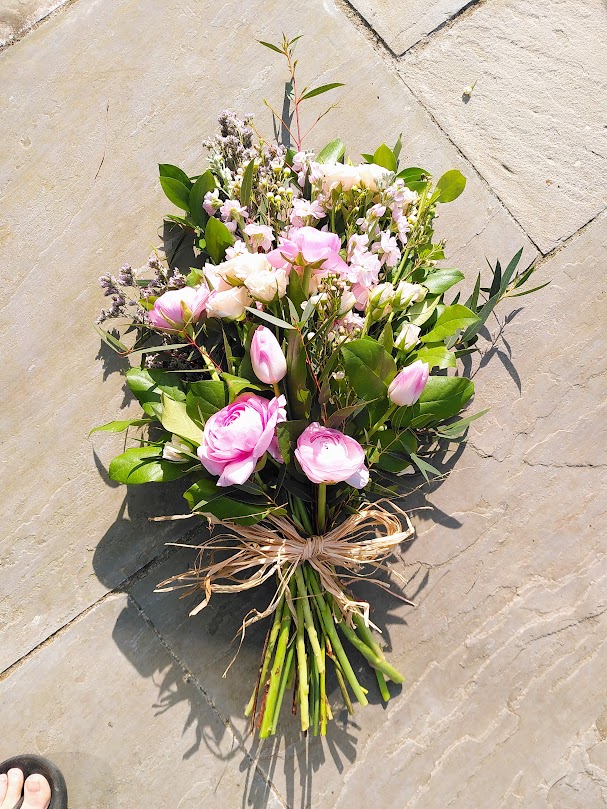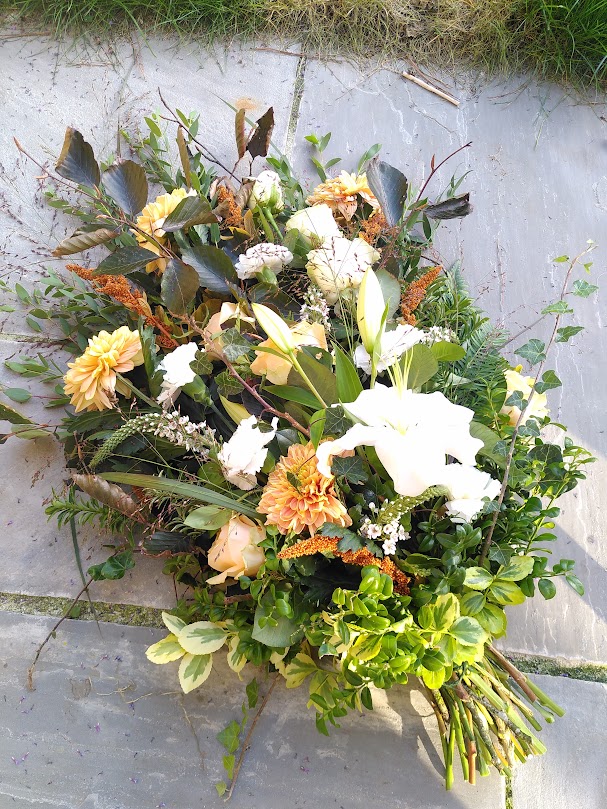 Wreath
These traditional arrangements are often chosen by family members who are unable to attend a funeral service. They can also be made as the main tribute, or to place on a grave. They are made using environmentally friendly techniques and contain no floral foam or single use plastics. Wreaths can be made in the traditional circular style or in a heart shape.
Standard size wreath from £65
Large size wreath from £85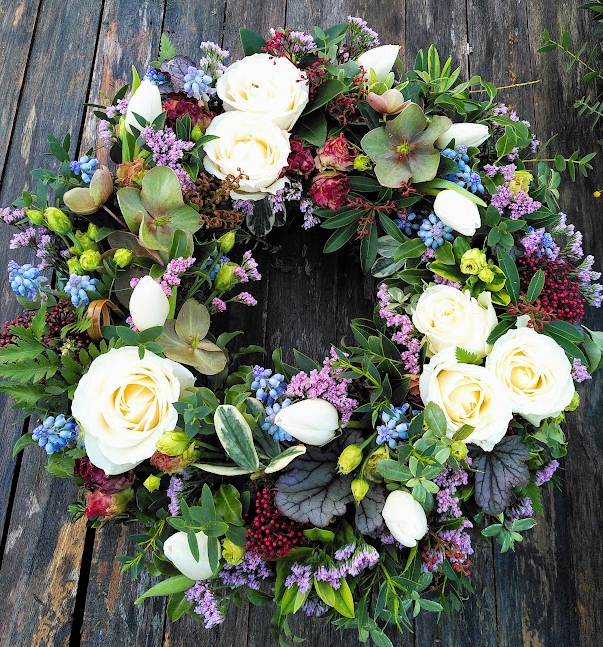 Thank you so much for the photos of the wreaths! They are splendid, and it is such a joy to have faith in someone, and a small independent company and its ethos, and be rewarded so substantially. You deserve every success you have, and you are beacon to aspiring future independent business owners. Quality offerings and good service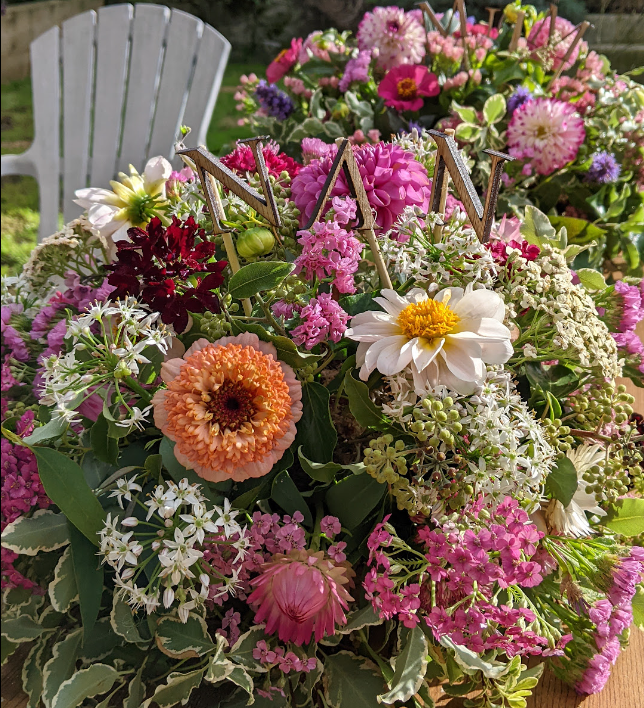 Posy arrangements
These are circular arrangements with a flat underside. When I'm describing these to customer's on the telephone I often say…they're like the one that the Queen had! Like The Queen's stunning floral tribute, our posy arrangements are made with all natural and biodegradable materials.
Standard size from £70
Large size from £90